Elyse Defoor's "Slivers of Time, The Art of Personal Mythology" was presented at The Art Institute of Atlanta in November 2022.
The video tour with the artist was created by Ben Goldman of BenG, Atlanta. Copyright 2023.
An Image List is provided for your reference. For inquiries, contact Elyse Defoor at elyse@elysedefoor.com.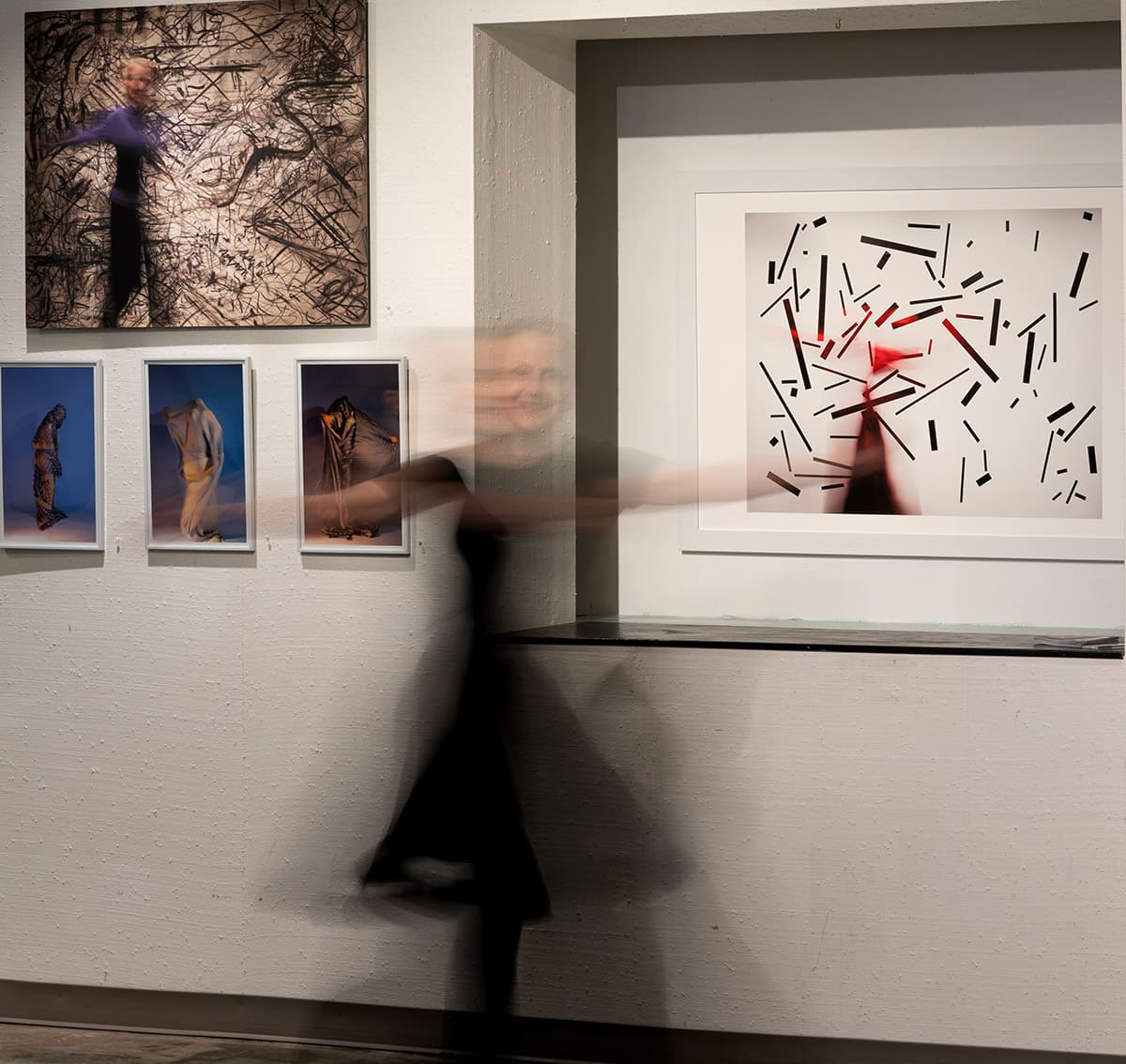 "Slivers of Time, The Art of Personal Mythology" – A survey of artist Elyse Defoor's multi-disciplinary artistic practice that included drawing, painting, installation and photography was presented in her solo exhibit at The Art Institute of Atlanta, in November 2022. This documentary film was created by Ben Goldman of Atlanta, copyright 2023. The exhibition centered on Defoor's exploration and documentation of the various transformations and transitions in a woman's life. The through-line of the feminine form – represented in both body and spirit – evokes narrative and introspection. Defoor's work is serial in nature, each body of work evolving from the ones before, representing chapters in her oeuvre – "the art of personal mythology" that began with paintings of garter belts snaps that told the story of a hidden loss— using objects such as belts and on/off switches to convey mystery and meaning.
____________ A photograph of her shriveled and crispy 1980s bathing suit inspired her to consider the "skins" we wear to cover and reveal ourselves. For over thirty-five years she has utilized objects of clothing as physical signifiers of the past and present lives of herself and others. In "Relics of Marriage" she collected and photographed wedding dresses and quotations of the women who wore them. For her ongoing "Body Armor: Dresses," she has used the dresses she has saved since childhood and sculpted them on top of her artwork to photograph them as a material record of an idealized self. An Atlanta native, the dresses are potent memory objects related to her playing Scarlett at age ten, her first prom dress, and others that mark celebrations and the transitions of life. The oldest work in the exhibition, "Ancestor," her first oil painting, reveals her early ability to illuminate the essence of being human as a common thread since the beginning of her art-making. In this solo exhibit, Defoor also presented glinting images of knives lying on soft surfaces as examples of her new SLIT series. These, along with content for other photographs in the show such as belts and on/off switches, are everyday items that can have larger significance based on the alchemy of a viewer's memories, experiences or fantasies.